Florida's Leading Implant Dentist
Dr. Cab has placed and restored thousands of implants and can give you new teeth and change your life in just one day. Walk out with beautiful, natural-looking teeth! Start with a free consultation today.
Free X-rays and Digital Scan
Payment Plan for Implants
No credit needed. No Interest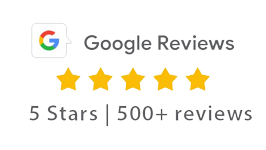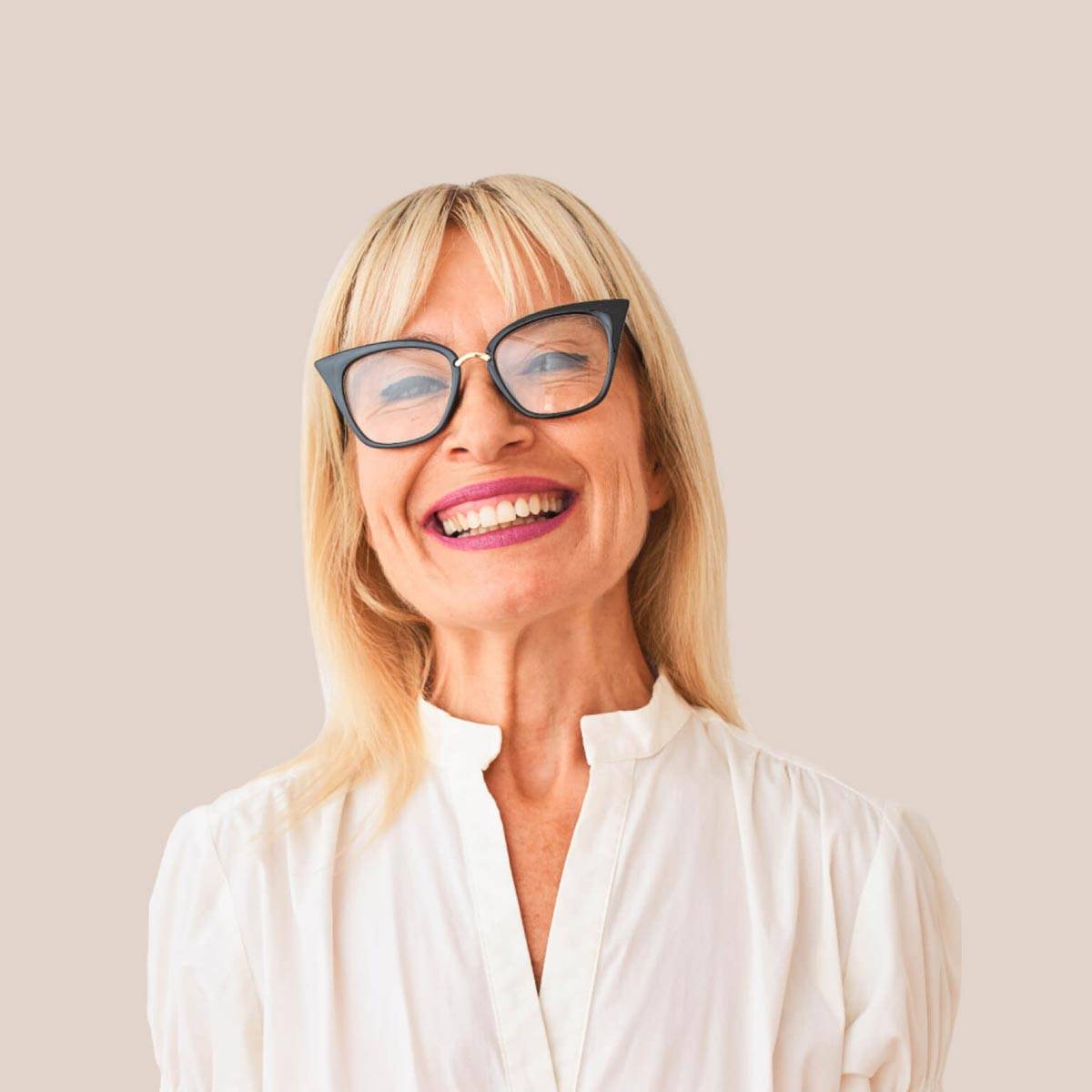 First extraction ever and I was freaking out. First off, the doctor… Hilarious I was laughing before the numbing cream. Both the doctor and assistants made me feel comfortable and that I was in good, experienced hands. Now I'm not so scared to get my other bad teeth dealt with😇 Thank you Luxe Dental
I wish I could give more than 5 stars. I'm not sure how I got lucky stumbling upon them in my search for care as I'm new to the area. I have always hated the dentist because I've never had the greatest experience from front desk staff to the dentist him/herself. Always felt judgy from financial, and oral health standpoint. THIS TEAM IS INCREDIBLE. Every single person looks and acts like they like their job and want to be there. The reception team was 10/10 from explaining financing and working with me with out rushing or getting frustrated. The dentist himself was incredibly smiley and kind to speak to. He explained very thoroughly what was going on with my dental emergency and asked if I was okay or had any questions. The amount of infection/swelling and pain I had was unbearable. Vanessa checked in with me multiple times after leaving the office to check in on my pain. She texted me on the office phone after hours letting me know she spoke to the doctor and had recommendations to help relief some more of the pain until the antibiotics worked. I will not go to another office no matter how far away I move from this one. This team is really special. I feel safe here. Thank you Vanessa, Jessica and Dr. Schwartz.
I've always been scared to go to the dentist I've had traumatic experiences in the past. I went there today because I broke my tooth after doing the research it looked to me as if this would be the place to go I must say from the moment you walk in you feel very comfortable from the dental hygienist, Vanessa at the front desk is fantastic and Dr Wilde explains everything to you to put you at ease. They have my highest recommendations.
All of the staff/doctors are very friendly and welcoming!! They make me feel at ease through my procedures! Not only that but the office is very clean and sanitized!
Everything about this dentist is excellent! I have never felt more comfortable sitting and waiting for my procedures to be done because I know I'm in great hands. Dr. Wilde and his staff really do make you feel like you are valued and cared for as a patient should. If you care about quality and knowing things will be done right please come here!
I have been a patient of Luxe Dental for over a year and from my very first visit I have received amazing service from Dr. Wilde, his hygienists, and office staff. In addition to my normal dental visits, I am also undergoing Invisalign treatment. The experience has been pain free and all around great! Needless to say, I am a very happy patient. 🙂
The staff is really friendly and professional. They treat you like family. Lori is really good at what she does and is the best dental hygienist I've ever had!
Combining modern dentistry & high end technology with experience and old school compassion towards each patient 
25+ Years of Experience Harvard Graduate Prosthodontist
We Specialize in Immediate Implant Placement
Get Extraction, implant and bone graft in ONE DAY
Highest Quality Implants that can last a lifetime
START SMILING AGAIN!
Schedule a FREE, No Obligation Consultation Today!
Dental Implant Options For Every Smile
Single Tooth Implant
Single dental implants are the perfect solution to replace a previously extracted tooth or tooth damaged by decay or trauma.
Preserves your bone

Looks and works like a natural tooth

Life-long teeth replacement solution
Full Fixed Set Of Teeth
All on 4 dental implants, All-on-6, or mini-dental implants are a great option for full upper or lower smile restoration. Often they can be placed without the need for extensive bone grafting and are an excellent tooth replacement alternative to dentures.

A permanent solution compare to dentures

Chip and stain resistant
Implant Supported Dentures
Stabilized dentures may be the right option if you are struggling with uncomfortable, painful, or ill-fitting dentures.
Helps prevents bone loss

Improve your bite function

Can snap-in or be permanent dentures

Provides more strength and support than dentures
DR. JUAN CABANILLAS, DDS
Harvard Graduate Prosthodontist
Implant Specialist - 27+ Years of Experience
Dr Cabanillas has unsurpassed experience performing this highly complicated procedure having successfully placed over 5000 implants, 500 full mouth reconstructions and 300 All-On-4 Arches. Known for placing the highest quality dental restorations, he is highly sought after in the affluent South Florida community by executives, celebrities, and patients with the most challenging cases!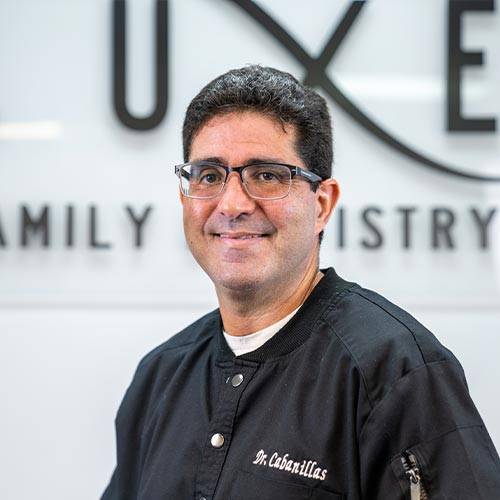 Dental Implants
Before and After
We're dedicated to showing our patients the significance of their transformation. That's why we've collated a list of full mouth dental implants before and after. Check it out!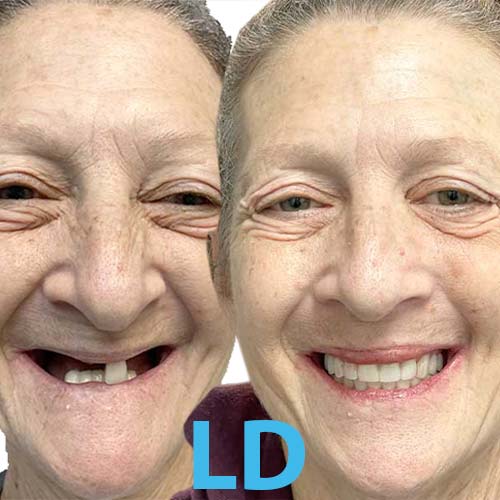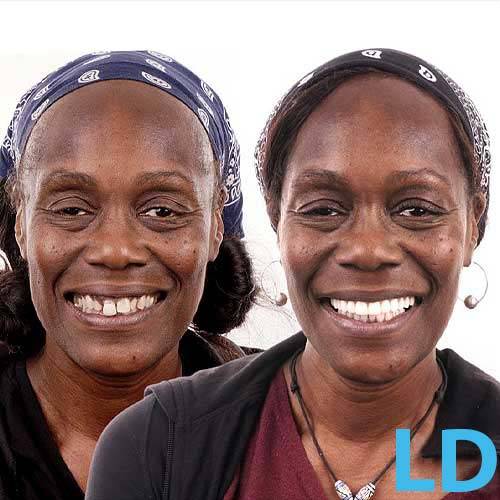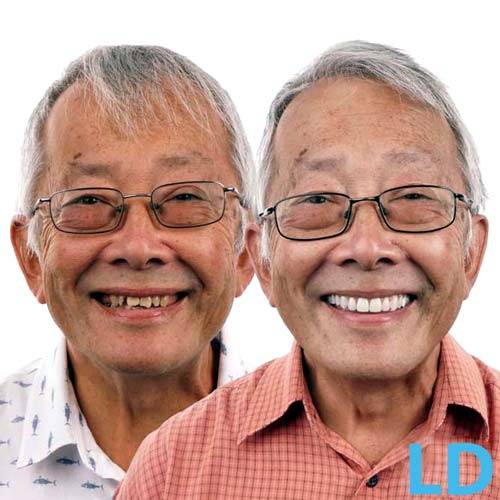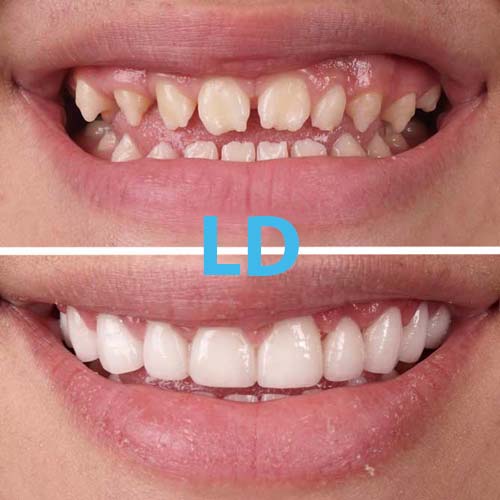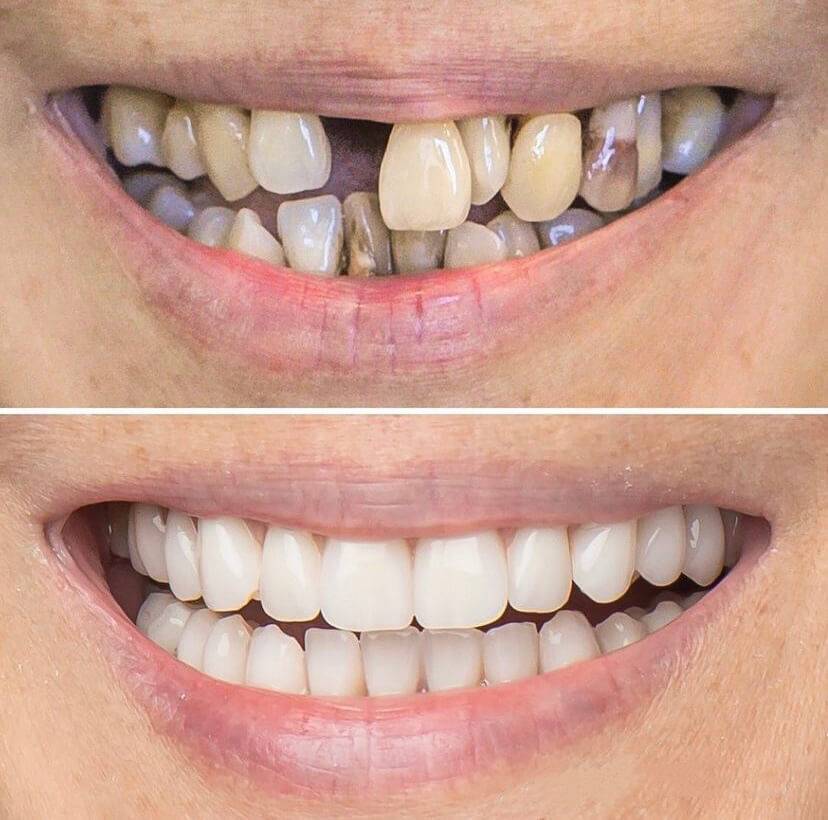 Our Patients are All Smiles After Implants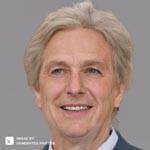 Royce Shelton
All on 4 Dental Implants
"From my very first visit with Luxe Dental I could not of asked for more the staff made me feel very comfortable and relaxed.
I had the all on four implants done. I can honestly say it has changed my life. The entire procedure was done in a day with very little to no pain and I was back at work the following week.
Any one who is looking for this type of treatment don't hesitate just get it done it will absolutely change your life like it did with mine.
Thank you to everyone at Luxe Dental "
Sarah Clarinbull
All on 4 Dental Implants
"I had made the decision to get All On 4 implants but very uncertain as to who would do it.
After checking out various sights on Google I decided to go to Luxe Dental.
I made an appointment and from the moment I arrived I felt quite comfortable. The reception staff were very friendly and polite and my appointment was bang on time as were all my other appointments. I now have a much better smile than before and a great set of choppers. I cannot recommend them highly enough. "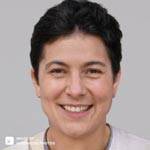 Maria Dolores
Dental Implants
"I have never had an implant and therefore didn't know what to expect. At Luxe Dental they immediately made me feel at ease, explaining the procedure in full. I haven't had the crown put in as yet, however I was pleasantly surprised how pain free the placement of the implant was. Very happy so far and would recommend Luxe Dental to anyone. "

Living with Dental Implants
Every Dental Implant that we make in our Dental Office in Lauderhill, Fl is with the objective that it lasts to each patient a whole life taking the necessary measures on the part of the patient so that the process of treatment and recovery is successful. Dental Implants are not supposed to move from their position or decay over time, the only thing that can threaten the duration of each implant is Advanced Gum Disease that is mostly generated when proper dental hygiene is not maintained.
In order to guarantee the duration of each dental implant, it is required to maintain proper dental hygiene, with regular visits to our dental office every 6 months in order to avoid any type of infection around the dental implant.

How much do dental implants cost?
The average price of an implant in the US (including the implant, abutment and crown) is $3,4151 but costs vary depending on individual needs. Our Lauderhill dentist will discuss the price of your treatment plan during your initial consultation.
Dental implants can be more expensive than other solutions for missing teeth, such as dentures and bridges, but offer much more in terms of comfort and discretion, and provide a longer-term solution.
At Luxe Dental Care we believe in transparent pricing, so your dentist will always explain costs in full before beginning treatment.
Am I too old/young to have dental implants?
Dental implants can be suitable for adults of any age. Implants aren't recommended for under 18s as the jaw is still growing and the bone tissue hasn't fully developed yet.
Are there any reasons why I can't have a dental implant?
In your initial consultation, you'll be assessed for your suitability for treatment. Occasionally, dental implants might not be recommended for some patients for medical reasons. For example, if you have previously had radiotherapy in your jaw or if you have diabetes which isn't under control.
If you smoke, you'll be advised to give up before having an implant fitted. Research shows that the rate of implant failure is much higher for those who smoke than those who don't
Can I replace removable dentures with implants?
Yes. Dentures are a popular solution to replace missing teeth, but people sometimes choose to replace their dentures with implants because they're fixed into the jaw and eliminate the need for adhesives.
How painful is it to have a dental implant fitted?
Implants are fitted under local anaesthetic which numbs the mouth, so you shouldn't feel your implant being fitted.
After your surgery, you'll likely have some pain, bruising and swelling which will probably last around a week. This is normal, and you'll be able to go to work the day after your procedure.
Your pain should ease with over-the-counter painkillers. If you're concerned that your pain is abnormal, you should always consult your dentist.
How long do dental implants last?
If you look after them properly, implants can last as long as your natural teeth. It's important to make sure you care for your implant properly to get the maximum lifespan out of it and reduce the risk of infection.
How long does the whole process take?
The time it takes for dental implants to be placed varies from person to person. The average length of time is between three and nine months, but this might be longer depending on your individual needs, and whether you need any preparation work such as extractions or bone grafts.
Why might I need a bone graft before I have my implant fitted?
Dental implants are inserted directly into the jaw, so your dentist needs to make sure there's enough bone to support the implant. If you don't have enough, it's possible to graft bone from your other body parts, commonly your shin or hip, and insert it into the jaw.
A bone graft may be performed under local anaesthetic, or in hospital under general anaesthetic, depending on where the bone comes from. This may add some time to having your implant fitted, but can be necessary for the implant to be a success. Although this may sound intimidating, it's a common surgery and is nothing to be worried about.
What is the difference between a dental implant and a bridge?
Dental implants are screwed into your jaw bone to hold a new, false tooth in place, whereas bridges use the surrounding teeth as support for a false tooth or teeth. Sometimes, some healthy parts of your natural teeth have to be cut away to support bridges, whereas dental implants do not harm the surrounding teeth.
Porcelain Veneers
Patients who have a number of chips, cracks, stains, or gaps between teeth visible when they smile may consider Cosmetic Dentistry Veneers.
Dental Bonding
Dental Bonding
is used for Cosmetic purposes to improve the appearance of a discolored or chipped tooth. It also can be used to close spaces between teeth, to make teeth look longer or to change the shape or color of teeth.
Teeth Whitening
There are countless Cosmetic Whitening Products available in local stores, but these over the counter options are unable to deliver the results they promise. Our Lauderhill Dental Team offers both in-office and take-home Cosmetic Whitening solutions that brighten smiles up to ten shades.
Dental Emergency
Few things are as scary and painful as a dental emergency. When you need emergency dentistry, Dr. Mark Wilde provides that much needed service in the state-of-the-art dental facility of Luxe Family Dental in Lauderhill, FL.
Dental Bonding
The Dental Bonding is the application of a tooth-colored resin material with adhesives and a high intensity curing light. The procedure gets its name because the materials are attached to the tooth. The joint is generally used for cosmetic purposes to improve the appearance of a discolored or chipped tooth. 
Crown and Bridges
Crowns and dental bridges are more permanent solutions for damaged or missing teeth. They are attached to your own teeth or implants to improve the appearance, alignment or strength of your teeth. Luxe Dental Dentists can work with you to develop a personalized treatment plan and perform crown and bridge dental services to restore your smile and confidence.
Partial Dentures
A denture is a removable replacement for missing teeth and surrounding tissues. There are two types of dentures available: complete and partial dentures. Complete dentures are used when all teeth are missing, while partial dentures are used when some natural teeth remain.
Tooth Extractions
A simple extraction of teeth involves the removal of a tooth that is visible in the mouth. This could mean removing a damaged or decayed tooth, or removing teeth before receiving the brakes.
Root Canal
Inside your tooth, under the white enamel and a hard layer called dentin, you will find a soft tissue called pulp. This tissue contains blood vessels, nerves and connective tissue, which help the root of your tooth grow during its development. A fully developed tooth can survive without the pulp because the tooth continues to be nourished by the tissues that surround it.
Dental Implants
Dental implants are tiny titanium posts and their main objective is to replace any damaged teeth. It is a minimum access surgical procedure that can easily be done in our Lauderhill Dental Office where we have everything necessary and doctors with enough experience to guarantee a pain free procedure. With Dental Implants you have the option to replace one or all of your teeth.