Dental Veneers: Your Gateway to a Hollywood Smile!
No credit needed. No Interest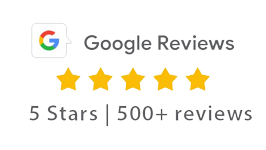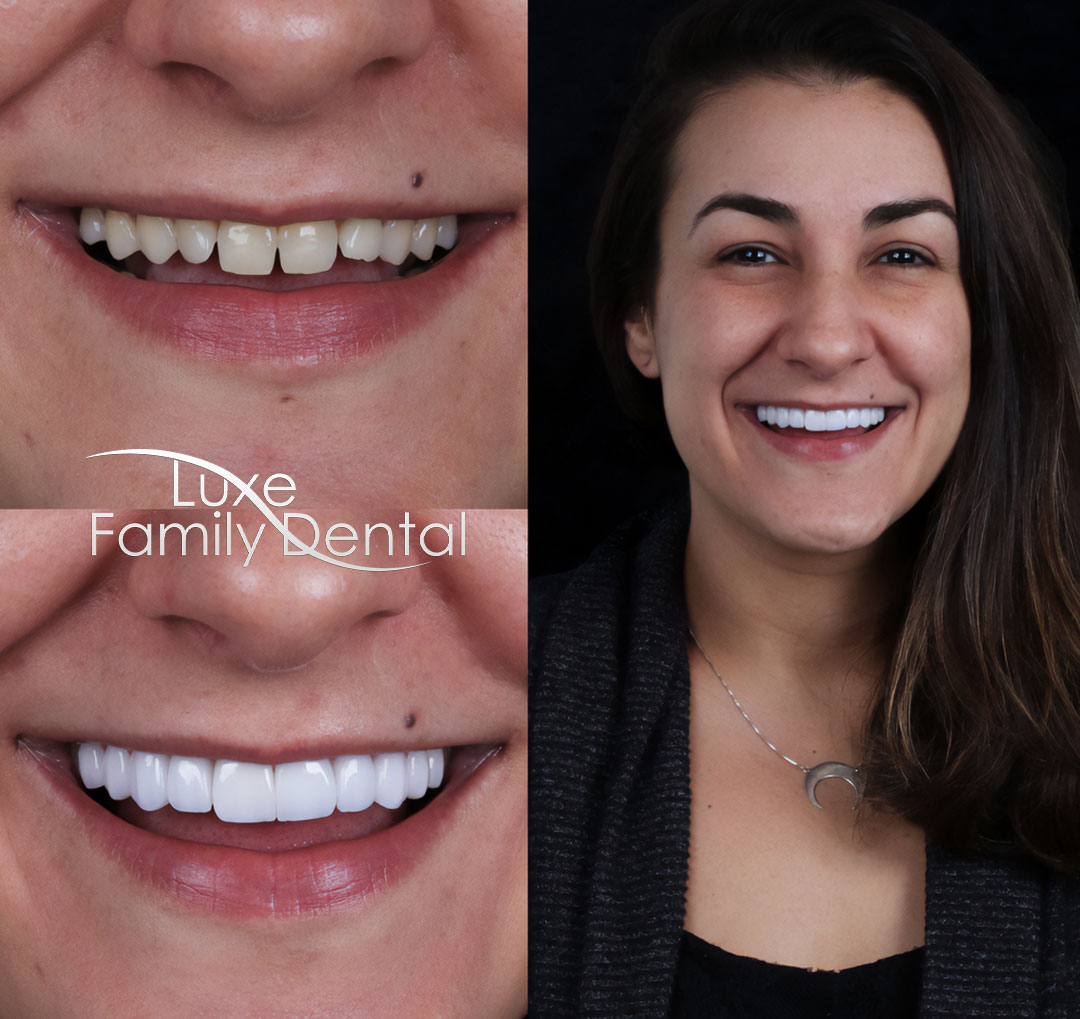 Let's face it; we've all spent some quality time – probably more than we'd like to admit – admiring those picture-perfect smiles flashing across our screens. If you've ever wondered, "How do they get their teeth so impossibly shiny and straight?", I've got two words for you: Dental Veneers. Yep, that's the A-list secret. And, just because you're not walking the red carpet, doesn't mean you can't have a red carpet-worthy smile! Keep reading, and you'll soon find out how. 😉
What on Earth Are Dental Veneers?
Alright, let's demystify these magical smile transformers. Dental veneers are wafer-thin, custom-made shells designed to cover the front surface of your teeth. Think of them as the little black dress for your teeth. They're versatile, fit perfectly, and instantly glam you up!
Benefits of Dental Veneers:
Instant Confidence Booster: Ever walked out of the salon with a new haircut? Yeah, that's the kind of confidence we're talking about.
Fix Those Imperfections: Gap between your teeth bigger than the gap in your weekend plans? Veneers got you covered!
Stain Resistance: Love coffee, but hate the stains? Veneers resist those pesky stains. Drink away (within reason, of course)!
Durability: These bad boys can last up to 15 years. That's a whole lot of smiling!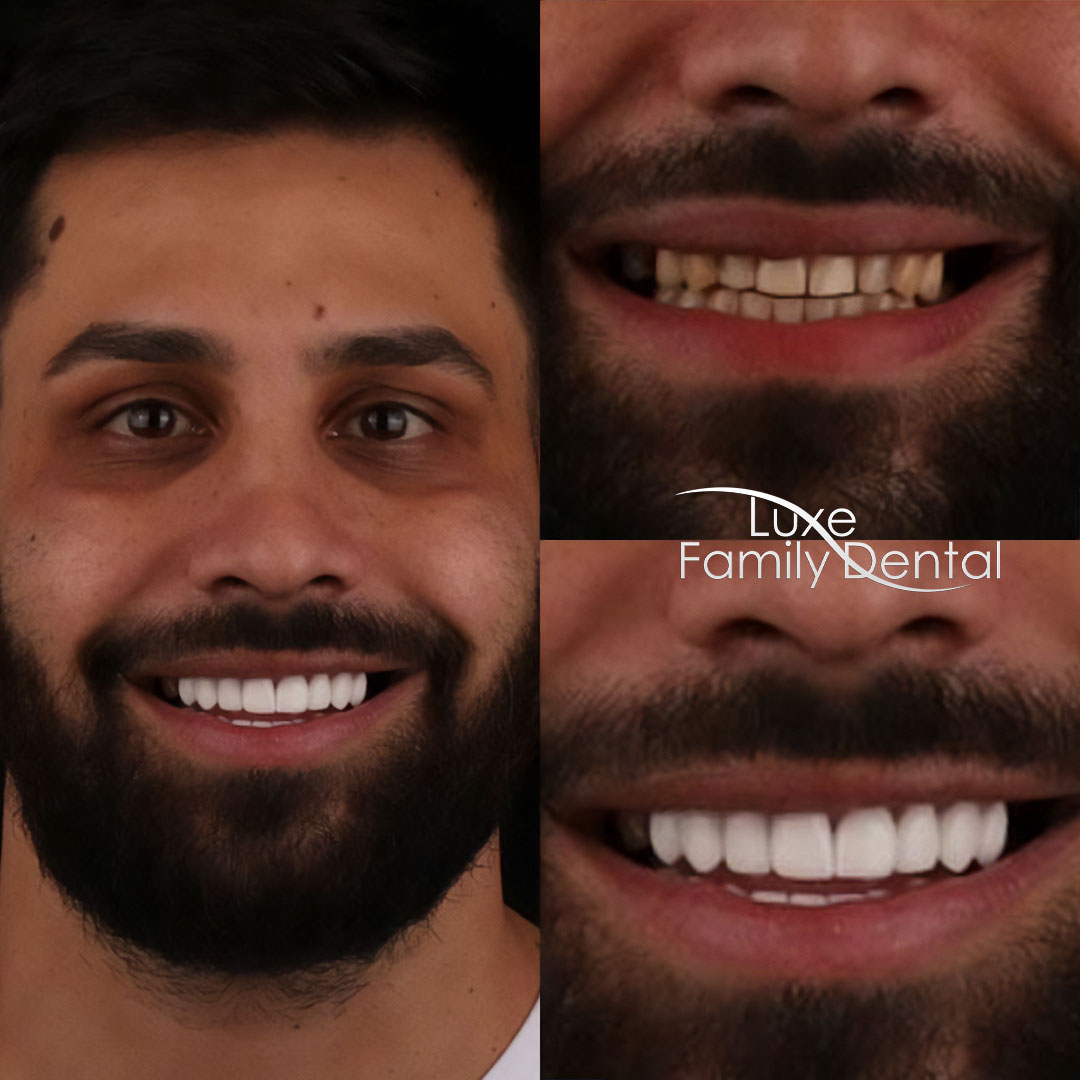 Quick Fun Fact: Did you know many of our happy patients say their veneers made them more popular on Instagram? Okay, that might be a tad exaggerated, but hey, who wouldn't double-tap a radiant smile?
So, What's the Next Step?
Your journey to the impeccable smile you've always wanted is just a call away. Remember, when you're thinking of veneers or any other dental services, Luxe Dental should be the name on your lips (and soon, behind them too!).
While we can't promise you a spot in the next blockbuster movie, we can guarantee a smile that's worth a million bucks. So, whether you want to flash those pearly whites at a friend, a special someone, or a horde of adoring fans, Luxe Dental is your go-to. Let your smile do the talking.
Dreaming of that perfect smile? Think Veneers. Think Luxe Dental.
Come meet the doctor and enjoy these special introductory offers or schedule a FREE consultation on any service.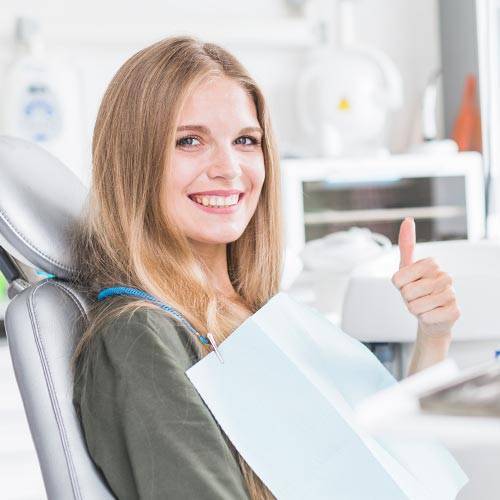 Only $89
Regular $150
Including Exam, Cleaning and Full Mouth X-rays
Only $1499
Regular $1999
Free Treatment Options Consult, Financing Available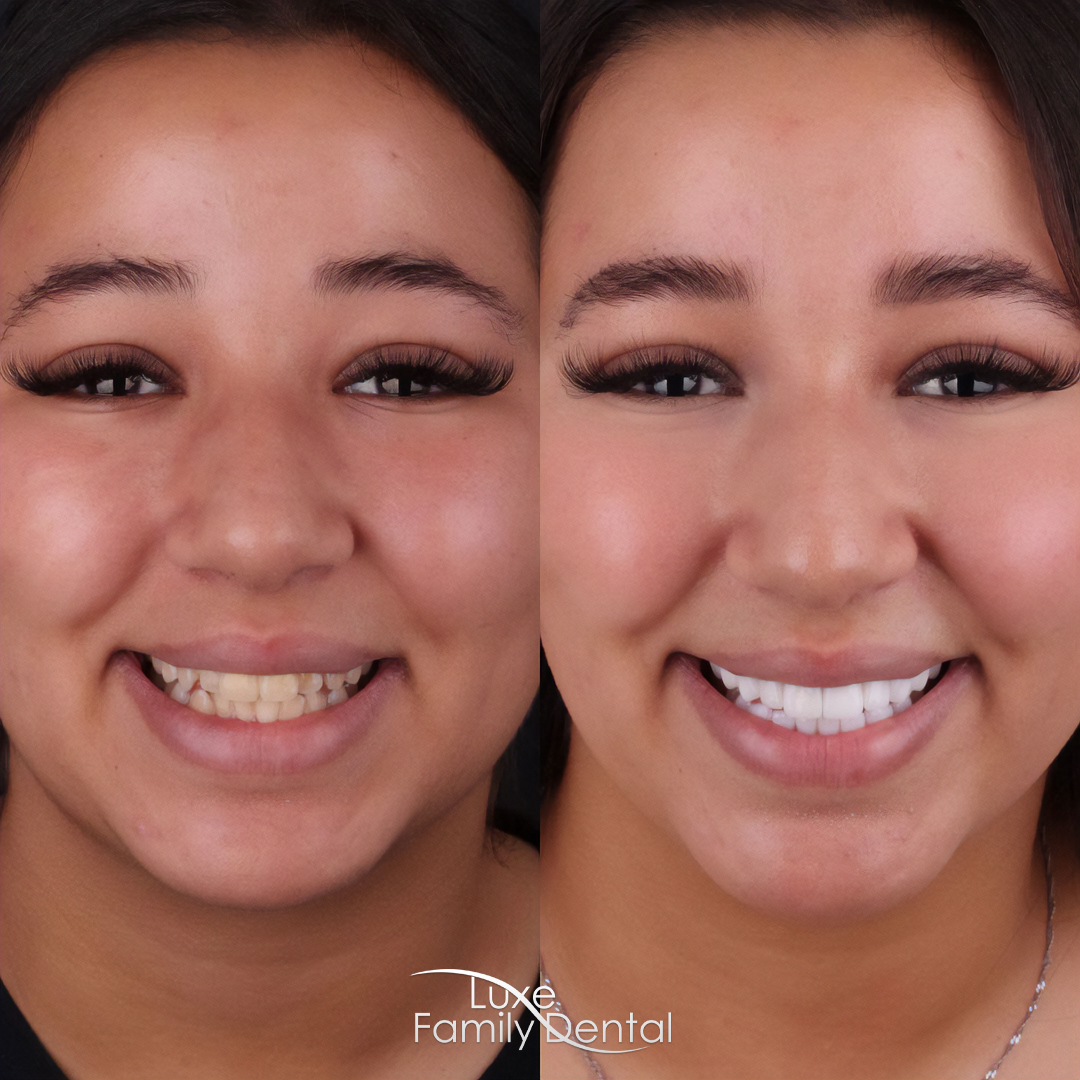 $1000 OFF
Any treatment
Complete Smile Design, Several Treatments Available
What are dental veneers made of?
Dental veneers are primarily made of porcelain or composite resin. At Luxe Dental, we typically recommend porcelain because of its durability and natural appearance, but we always consider your unique needs and preferences.
How long is the veneer procedure?
The process usually requires two appointments: one for taking precise measurements and preparing your teeth, and the other for applying the veneers. Each session may last 1-2 hours. Don't worry, your comfort is our priority!
Are dental veneers permanent?
While veneers are considered a permanent solution because they involve removing a small amount of enamel, they might need replacement after 10-15 years. But with proper care, they can last even longer!
Will veneers look like my natural teeth?
Absolutely! The beauty of veneers is their ability to blend seamlessly with your natural teeth. At Luxe Dental, we customize the shape, size, and color to ensure they complement your unique smile.
Can I get veneers if I have cavities or gum disease?
It's essential to address any dental problems like cavities or gum disease first. Once treated, you can definitely consider veneers. We ensure your oral health is in top shape before moving forward with cosmetic procedures.
Is the veneer procedure painful?
The procedure itself isn't painful, as we use local anesthesia. Some patients might experience slight sensitivity or discomfort afterwards, but this typically subsides quickly.
How do I take care of my veneers?
Treat them like your natural teeth! Brush twice a day, floss daily, and avoid chewing on hard objects. Regular check-ups at Luxe Dental will ensure your veneers remain in tip-top shape.
How much do veneers cost at Luxe Dental?
The cost can vary based on individual needs and the number of veneers you're getting. It's best to consult with our team for a detailed estimate tailored to your smile goals.
Are there any alternatives to veneers at Luxe Dental?
Absolutely! We offer a range of cosmetic dental treatments like teeth whitening, bonding, and dental crowns. Let's chat about what's best for your dazzling smile.
Why should I choose Luxe Dental for my veneers?
At Luxe Dental, we combine expertise, advanced technology, and a personalized approach to ensure you get the best results. Plus, our track record of radiant smiles speaks for itself!

First extraction ever and I was freaking out. First off, the doctor… Hilarious I was laughing before the numbing cream. Both the doctor and assistants made me feel comfortable and that I was in good, experienced hands. Now I'm not so scared to get my other bad teeth dealt with😇 Thank you Luxe Dental
I wish I could give more than 5 stars. I'm not sure how I got lucky stumbling upon them in my search for care as I'm new to the area. I have always hated the dentist because I've never had the greatest experience from front desk staff to the dentist him/herself. Always felt judgy from financial, and oral health standpoint. THIS TEAM IS INCREDIBLE. Every single person looks and acts like they like their job and want to be there. The reception team was 10/10 from explaining financing and working with me with out rushing or getting frustrated. The dentist himself was incredibly smiley and kind to speak to. He explained very thoroughly what was going on with my dental emergency and asked if I was okay or had any questions. The amount of infection/swelling and pain I had was unbearable. Vanessa checked in with me multiple times after leaving the office to check in on my pain. She texted me on the office phone after hours letting me know she spoke to the doctor and had recommendations to help relief some more of the pain until the antibiotics worked. I will not go to another office no matter how far away I move from this one. This team is really special. I feel safe here. Thank you Vanessa, Jessica and Dr. Schwartz.
I've always been scared to go to the dentist I've had traumatic experiences in the past. I went there today because I broke my tooth after doing the research it looked to me as if this would be the place to go I must say from the moment you walk in you feel very comfortable from the dental hygienist, Vanessa at the front desk is fantastic and Dr Wilde explains everything to you to put you at ease. They have my highest recommendations.
All of the staff/doctors are very friendly and welcoming!! They make me feel at ease through my procedures! Not only that but the office is very clean and sanitized!
Everything about this dentist is excellent! I have never felt more comfortable sitting and waiting for my procedures to be done because I know I'm in great hands. Dr. Wilde and his staff really do make you feel like you are valued and cared for as a patient should. If you care about quality and knowing things will be done right please come here!
I have been a patient of Luxe Dental for over a year and from my very first visit I have received amazing service from Dr. Wilde, his hygienists, and office staff. In addition to my normal dental visits, I am also undergoing Invisalign treatment. The experience has been pain free and all around great! Needless to say, I am a very happy patient. 🙂
The staff is really friendly and professional. They treat you like family. Lori is really good at what she does and is the best dental hygienist I've ever had!