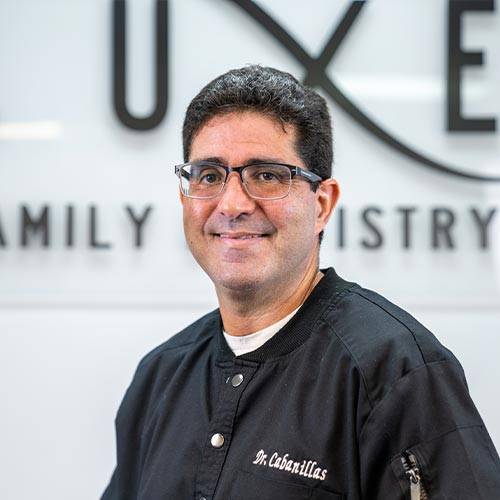 Dr. Juan Cabanillas, DDS
Harvard Graduate Prosthodontist with 27 Years of Experience
Dr. Juan Cabanillas DDS is a well-known Harvard trained Prosthodontist with extensive Periodontal and Oral Surgery training, who specializes in the revolutionary All-On-4 concept. After receiving his Doctor of Dental Surgery at NYU, he trained extensively at Mount Sinai Medical Center in oral surgery, periodontics, and restorative dentistry. Dr Cabanillas completed his combined Prosthodontics Program at Harvard University/VA Hospital in Boston, MA – receiving the first honorable mention in the program's 22-year history!
Dr Cabanillas has unsurpassed experience performing this highly complicated procedure having successfully placed over 5000 implants, 500 full mouth reconstructions and 300 All-On-4 Arches. Known for placing the highest quality dental restorations, he is highly sought after in the affluent South Florida community by executives, celebrities, and patients with the most challenging cases!
He also served as Clinical Assistant Professor at the University of Florida and was involved in treating complex multidisciplinary cases in medically compromised patients at the VA Hospital in Palm Beach, FL.
Throughout this time, he developed skills to treat the most complex dental cases, while still providing the highest quality of patient care. His patients love his attention to detail, soft hands, sense of humor, and passion for his profession.